THANK YOU FOR SHOPPING WITH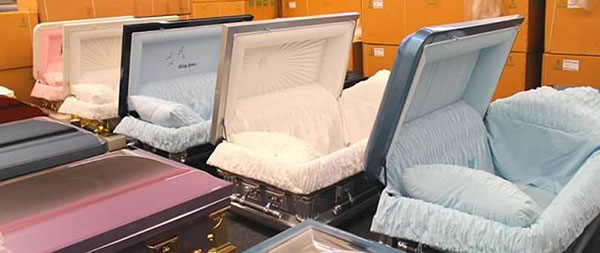 Our Mission
At Pacific Coast Caskets, we strive to alleviate the extraneous burden placed upon families during the difficult time of bereavement. Our vision is to provide families a fabulous selection of distinguished funeral necessities at a significant cost saving price. We proudly offer an extensive variety of dignified funeral essentials at a signifcantly discounted price; arrange for FREE GUARANTEED NEXT DAY DELIVERY to the funeral home of your choice, all while providing our clients the utmost professionalism and customer service. Guranteed overnight shipping ensures on time delivery for a smooth, worry free transaction. Our Customer Service Center is available 24 hours a day to help you along the way. We are here to be of service to you.
Our Commitment
Pacific Coast Caskets is committed to delivering the entire West Coast an unmatched standard of quality, care, and customer service. Our user friendly ordering service and guaranteed delivery times provide peace of mind to families in trying times. Our dedicated customer service staff is available 24 hours a day, 7 days a week to assist you with any questions you may have. We understand the urgency and importance of each individual situation. As such, we are committed to treat each order with the proper duty of care it so requires.
Our Story
We understand the unnecessary adversities families face while making proper funeral arrangements during a time period of grieving the recent loss of a loved one. We have first-hand experience with the price maipulation practices utilized by funeral homes when it comes to purchasing funeral necessities such as caskets and urns. We started this company with the idea creating a way to offer grieving families a more diversified selection of funeral necessities than your ordinary funereal home, while also extending our customers significantly discounted prices. Through vigorous efforts we were able to secure partnerships with multiple casket and keepsake suppliers and manufacturers as well as over 200 shipping carriers. Today we are extremely pleased to be able to offer our customers a wide assortment of high quality funeral necessities at a substantially more affordable price. We kindly invite you to shop with us.